What can you do around Tortola? Oh goodness, the possibilities are endless! But let us try to name a few:

Swim, sun, surf, snorkle, sail, fish, dive, motorboat, bike, hike, shop, sitesee, dine, dance, bar-hop. Watch sunsets, moonrises, or the stars.

Rent a car and explore Tortola on your own, or hire a professional, knowledgable taxi driver to take you on a custom-tailored guided tour. Take a tour through a genuine island rum distillery. Or hike through beautiful Sage Mountain National Park to view ages-old mahogany trees and beautiful vistas from the BVI's highest point.

Spend a day sailing and snorkling aboard an authentic wooden schooner, or travel with a professional dive company to the world-famous Wreck of the Rhone. Explore the other islands via inter-island ferries, guided daysail, or rental boat.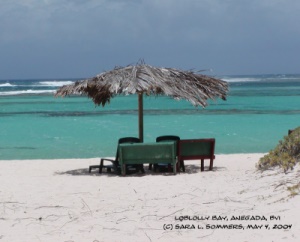 How about a trip to our "out island", Anegada, 20 miles to the north? Unlike the other volcanic-origin British Virgin Islands, Anegada is a coral atoll. With only about 200 residents, it has a whole different feel. Rising only 28 feet at it's highest point, and surrounded by reefs out to 15 miles, Anegada is stunningly beautiful. A typical day might include lolling at one of the beautiful beaches with occasional dips in the sea or trips to the beach bar, exploring the salt ponds to catch a glimpse of the famous pink flamingos, a visit to the Iguana Project (preserving one of the rarest lizards in the world), or long walks on the miles of beautiful beach. We can arrange a day trip for you, to include breakfast, lunch, rental car, bicycles, snorkle gear.

Whatever activities you pursue, take lots of pictures so you can enjoy your trip after you return home!